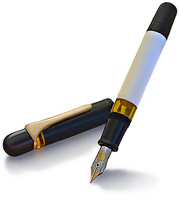 Another great pen day has brought us the first two prototypes for the new PENguin Pen. These are pre-production, fully functioning pens.
This is a large pen, the size, roughly, of the Pelikan M1000. It is made of a combination of traditional and modern materials, principally black hard rubber and acrylics. It is a very high quality piston filler using fully reconditioned vintage parts. The nib is a large German made two tone 18 Karat that everyone recognizes and respects. For its size the pen is surprisingly light, well balanced enough that it writes well and feels good either posted or not. The one thing you do not now see is that the final version(s) will have an original clip of our own design.
The maker is my good friend Bruce Hirschman of Bruno Corsini pens so you know that all parts are and will be hand turned and finished to the very finest standards.
We plan on producing no more than twenty five pens. If you seek more information feel free to e-mail me, but for now we mostly want your feedback, both online and in person. We plan to have pre-production samples available to test at the Chicago Pen Show.