We are pleased to be able to offer to the pen community this,
The Howerton Collection.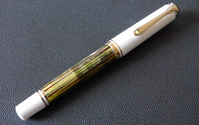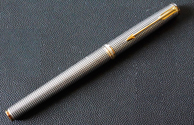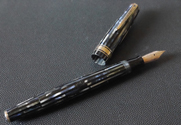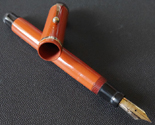 Every collection bears the imprint of its owner and this collection speaks to Tom's careful attention to material objects. This is not one of those collections of spectacular pens that no one would ever write with. It is what, borrowing from architectural terms, I call a vernacular collection. The pens in it are the pens that an ordinary man or woman would have used and cared for. I suggest that these pens were all cared for because virtually all of them came to me in excellent plus condition. Some of them, no doubt, were restored by careful craftsmen, but many more appear to be in superb original condition and condition is what this collection is all about. The vast majority are not only ready to write with (which I assume Tom did) but are also in superb cosmetic condition. And so it is a privilege to be able to pass them along.
For now, you can best access the collection via this downloadable pdf.

As I catalogued them I made notes to help you understand just what you will be getting.
I have also made some quick and dirty images of the collection in portfolio and in no particular order. If you want a pen right now before anyone else can get their hands on it, the best course would be to copy the image from the website and mark the pen you want or to work from the pdf to identify your wants. Also, note that for now there are no images of the pens and sets in boxes. If you are interested in those let me know. And always feel free to ask questions.
The pens marked in green on the pdf will be available for purchase at the Washington DC Supershow and the entire collection will be at the San Francisco and Los Angeles shows.