We are now pleased to offer European custom crafted barrels in light and dark yellow/brown. These are $75 and can be incorporated into custom demos.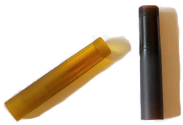 Faced with the problem of cellulose nitrate Pelikan 100 bodies that have disintegrated, a little while ago I commissioned the production of replacement shafts. Then, preparing for a seminar and looking for a demonstrator, I put the two together. The result, which you see below, is Pelikan 100 "demonstrator" of the kind that the company never made until after World War II. I made a couple, one for a client and one for myself, and have finally had time to put together a few more. These are fully functional, useable pens. Available with a variety of fittings including early hard rubber, as shown. Also available with a clear green body and, if you wish to get wild, blue and red. I'm not gonna make or sell a lot of them in part because they are expensive. Nibs and trim levels are negotiable.
As shown, with front line hard rubber parts and an early gold nib, $500.00.
I can also put together a "1929" model (including heart hole nib) like mine, as shown. $1000.00
Email to find out what your fantasy demonstrator might cost.
These can be custom made to client specification in two days.