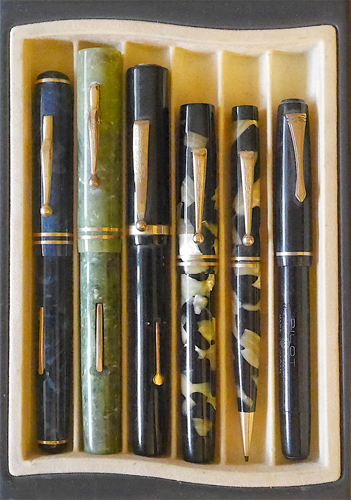 I imagine that for every collector the time comes when you think, "well, I have too many pens." There are verious reasons for the thought, age infirmity or simply the desire to reshape a collection. For me, happily, it is just the realization that over the years I have tended to gather together a dozen examples of a given maker when one of two would have served as well. And, well, I am getting older. So, as promised, this is the first installment of pens from my own collection that I will begin to offer.
Carter is best known for their ink, but for a brief time they made some of the highest quality pens ever offered by a "secondary" American maker. Over-engineered best describes these pens. I'll be offering a few of these over the next few months.

Two of these:
RP1-The Lapis "Superwear" is of standard size and has a slightly soft fine nib. There is an owner imprint near the lever. $175

$135

SOLD

RP2-The Jade is the classic oversize "Inx." Curiously there is no inner cap and I am not sure if it began life with one or not. As you can see the color is good, but not perfect. The price reflects not just the quality and scarcity of these pens but the modest defectsof this example. $350 $275

SOLD

Diamond Medal pens were made for Sears by the National Pen Products Company which was part of C. E. Barrett's Chicago based syndicate. (It's complacated). Pens of good quality. . I'll be offering a few ofthese over the next few months.
RP3-This is a flat top oversize in black with a Warranted #8 Fine rigid nib.The clip has a bit of side play but is secure. $125

$95

LeBoeuf is one of the legendary American makers. If you know, about this legendary Springfield, Massachusetts maker you know, if you don't you should. This is probably the only of my LeBoeufs, a set no less, that I am willing to let loose of.
RP4-This is a Jet and Pearl number 6, with a single piece barrel sleeve filler. The quality of the color and the presence of the pencil set this apart from the usual. $600

$450

SOLD

Finally, for now, my first Japanese safety pen,
RP5- A modest Pilot in black celluloid. From the early 1950s with a Pilot Namiki imprint and a #1 flexible 12 Karat fine nib. An uncommon little pen. I cannot guarantee the seal on this pen. $150

$125