Everything's been written about Parkers, well not quite, but a lot, and I don't need to write much more about this maker. They are one of the "Big Four" of American pendom. If you have questions, links will be coming soon and always feel free to contact me.
My own collection of Parkers focuses today on Vacumatics, 51s, 61s, 75s with a representative sampling of models before and after. Many of the Parker Duofolds offered here were originally in my collection, but the simple fact of the matter is that I don't, personally, like lever-filling and button filling pens as much as piston and vacuum fillers.
I love working on vacumatics (probably the worst of my perversions), so everything is reconditioned to the highest standards.
Most of the pens here are duplicates from my collection and pens that I have bought, rebuilt and offer for sale, always with my promise and guarantee, which is available in the About Me area of the site.
Vacumatics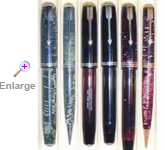 Vacumatics, introduced in 1932 as first the Golden Arrow, then the Vacuum Filler and then the Vacumatic, are to me the most fascinating of Parker's pens with their laminated pearlescent celluloid bodies, often very nice, though usually rigid, nibs and that filler.
The earliest pens, the Golden Arrows, are most rare. After many years I finally have a set, but I'm always looking for more. If you have one to sell, get in touch, please.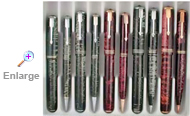 Vacuum Fillers are very similar to the later Standard Vacumatics (1933-1936) and the Vacumatic Juniors although the nibs on the early pens are quite different and there are some colors--notably crystal and red/blue--that were not around later.
The basic colors for the Standard were introduced in these years--golden, black, green, burgundy, silver. Blue came later, and not in the standard model. Red was discontinued after 1941.
The juniors (distinguished by a slightly smaller size and two, as opposed to three, cap rings) can be found in a larger array of sometimes gorgeous colors, the gold and silver (rare) webs, and green, gray and red marble, as well as the often gorgeous shadow waves. Always valuable are the Oversize Vacumatics.
After 1937, the pens were streamlined and the models proliferated as nomenclature was shifted by the factory from year to year. In listing these pens by model name I shall be as accurate as the factory catalogues allow. The early Slender Maximas and later double jewel majors (1937-1941) are gorgeous pens that are, I think, undervalued in the market place. I try always to have several available, usually in gold, black or silver. Occasionally I am able to offer a Maxima or Senior Maxima (to all intents and purposes the same pen).
Wartime (1942-47) Vacumatic Majors are very affordable entry level Vacs that feature some of the allure of the earlier models. Look for Majors in blue with two-tone nibs. I try always to keep one or two around for sale.
Also to be noted are the wartime Duofolds. Parker kept, or adapted, the name to appeal to old-time customers. These are the pens with longitudinal rather than lateral stripes. Most are vacumatic fillers, though some are button filled. Note the wartime "V" nibs on some of the blue diamond models. Some of those are platinum masked.
I am particularly fond of the double jewel, split band models. As soon as I can find duplicates they will be listed here. These are pens to watch for as I strongly believe that they are undervalued right now.
In vac restorations, I always use the appropriate parts, although transition 1936-37 pens vary wildly in their composition, as do the 1939-41 models.